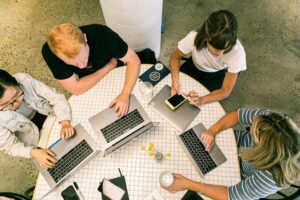 It's often easy to think that a business leader should be a perfect representation of all skillsets. We may feel that a boss should understand every single department of their business through and through, and remain able to work in the shoes of the employees they hire if needed, at the drop of a hat. Of course, this only leads to us who may wish to open a business to struggle, as being a specialist in many different fields is by no means reasonable or rational.
We need to take a more accurate approach to just what business management means, and how we may best embody it. We can often understand this through the important notion that a business leader is not the perfect employee, but rather, knows how to lead a carefully arranged team in the best manner. Business wisdom is found in surrounding yourself with the right people,  which is a skill all on its own. As far as that is considered, we would like to offer the following advice:
Managing Expectations
When you have the right people around you, you can trust their judgement. This means you can manage expectations appropriately. For example, a firm staffed with sycophants who only want to get ahead may vastly overpromise and underdeliver, while those who have both their own and your business interests at heart won't be afraid to give unsolicited advice, even if that's constructive criticism. It takes a healthy culture of acceptance and tolerance for ideas in order to bring this out of people, but you also need to surround yourself with people willing to go that far.
Trust Is Everything
When hoping to defer authority correctly, trust is absolutely everything. You need to ensure that you have the correct answers or at least some form of understanding surrounding a given topic. However, more than that, you need to defer expertise to those managing that realm of your firm. Just as we cannot expect to direct the processes of our immune system, we cannot expect our staff to function well and bring their expertise with continual micromanagement. Not only that, but this can save us plenty of time when it comes to developing and implementing our cohesive business vision in the long run.
Services Count Too
Surrounding yourself with the right services is also an essential consideration. As your business relies on the business to business connections it has setup, and with more SaaS offerings becoming an integral part of your functionality each year, it's best to understand and vet the best options for you. With the best IT Consulting and Support Services, you will be able to ensure that even user error on your own end can be adequately resolved and that best practice is adopted throughout something as integral as your technological outfitting. That, in itself, can illustrate business wisdom to a high degree.
With this in mind, we hope you can surround yourself with the right nodes of competency that will best showcase your business wisdom.