Website design is now an integral part of how you approach your audience. With an accessible website, you stand a much better chance of making waves and establishing yourself as a trustworthy business with a solid online reputation. If you're interested in building a better website to enhance the user experience, then here are the five pillars of better website design and how you can apply them to your business.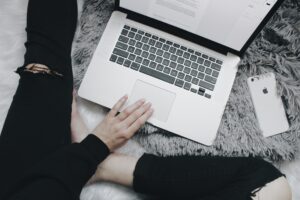 Building your website for multiple platforms
Few people realise just how important it is to build your website for multiple platforms. With a roughly 50/50 split between internet users using mobile more and using a desktop as their main web browsing tool, there's little advantage to focusing on just a single platform. Instead, it's ideal to focus on multiple platforms and ensure that your website works correctly on both desktops and smartphone devices. In addition, it's a good idea to test your website on a variety of browsers and operating systems to ensure that it's working correctly regardless of how you try to access it.
One method of making this process easier is to make use of a user testing tool. This will help you focus on improving the user experience by testing your website on a variety of platforms without actually needing to have access to those platforms. This means that you can focus solely on ironing out the bugs and issues within your website on those specific platforms and browsers instead of sourcing the tools or software needed to test your site on multiple devices and operating systems.
If you fail to adapt your website to a variety of different devices then it only makes it more difficult to grow your audience. A website that works flawlessly and doesn't handicap its features depending on the operating system or device is one that will attract more users and prevent them from leaving in frustration.
Don't separate elements of your website
Another common issue is that people tend to separate the different elements of their website. For instance, they'll decide to hire a website designer first, then a branding assistant to make things like logos and colour schemes, and then a search engine optimisation expert will be brought in to help make the website rank on Google's search pages. Unfortunately, disconnecting the many different elements of your website just makes it more difficult to put together an effective website that can grow your business reach a wider audience.
Because of this, it's vital that you consider all of the elements on your website and build it with a holistic approach instead of a segregated one. Instead of bringing in different team members at different stages of development, consider hiring a turnkey solution to develop and manage all aspects of your website so you know that they're on the same page.
Focus on improving navigation
When people visit your website they want to be able to find what they need without being sidetracked or getting lost in a maze of different links. They want to connect to your site, click at most once or twice, then arrive at their destination. If you're not changing your website navigation to be streamlined and simple to follow, then you're going to frustrate your visitors.
Make sure you look at your navigation and try to ensure that no matter what your customers are searching for, they can find it within a few short clicks.
Use real content
When people visit your website they want to be educated, enlightened or even entertained. If you use copied content, stolen content or even just rewritten content, then you're rarely ever going to snatch their attention. Instead, you should think about how you can use personalised content and quality copywriting to your advantage. This is both for the sake of SEO and also for the sake of creating meaningful content that will bring users back to your site.
Copywriting services are excellent for this if utilised correctly, and it saves you a lot of time because you don't need to write your own articles, product descriptions or blog posts.
Use a solid design base
Whether it's the colour scheme, layout or the fonts used, make sure your website has a cohesive design so that your users aren't struggling with your website. Nothing should be difficult to look at and the base of your design needs to be steady, readable and friendly for both mobile and desktop platforms. You also don't want to complicate things, confuse your viewers or make it hard to read the content on your site.
With these five essential pillars, it can be a breeze to optimise your website's design, content and purpose to attract a much wider audience.