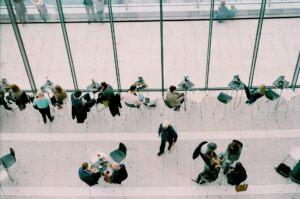 Who doesn't love a great party? Event marketing is an incredibly important part of business. Because so many ventures are competing for customer attention, you must work harder to stand out. While attending corporate events is fun, hosting your own has amazing benefits. The trouble is, most entrepreneurs don't deem events necessary. Instead, they eliminate them from marketing plans when money is tight. Before doing so, consider these reasons to host an event.
Make Real-Life Connections
Connecting with customers on a personal level will impact their engagement. If you're always talking to consumers through emails or over the phone, you'll struggle to gain customer loyalty. Entertaining your audience in the real world will add a human element to your brand, putting a face behind the name. While this is beneficial on its own, it also gives your business credibility.  
Build Up Brand Awareness
There is no question that events build brand awareness. Regardless of whether you host a seminar or workshop, an event will allow guests to connect with your business and learn more about it. Inviting the media along will extend your reach even further. Everyone has social media these days, so create a unique hashtag to encourage the guests to post about their experience. 
Launch A New Product
New product launches are difficult to promote. Without a strong enough buzz, your new offering won't do well on the market. Thankfully, any event you host would be full of your target audience. What's more, an exhibition stand hire can be designed to showcase that new product. This makes an event the perfect place to launch new offerings, as well as promote existing ones. 
Close Deals With Customers
Whatever your reasons for launching a business, all ventures exist to sell something. If yours can't fulfil this fundamental role, then it won't last for very long. Nonetheless, a corporate event is an ideal place to generate sales. The lights, music, and more work together to make a relaxed atmosphere. This takes guests out of a professional setting, making them more willing to buy. 
Grow That Mailing List
Building a mailing list is an often tricky task for businesses. However, there are many places at a corporate event where you could gather suitable data. Many events have a business card drop for attendees. This makes it easy for you to collect details and add them to your database and contacts. You can also ask guests to join your mailing list when they make a purchase. 
Potential For Media Coverage
Corporate events can create a lot of buzz. To take advantage of this, you should get the media involved. Having media coverage of your event will not only attract attendees but bring potential new customers to your company. Since you have to invest nothing extra, this valuable coverage is essentially free advertising and can go a long way to the success of your event. 
Hosting a corporate event can benefit your business in many ways. If you're looking to launch a new product or grow your mailing list, an event could be a great solution.